Open Evenings
E-SAFETY OPEN EVENING  - NOVEMBER 2016
Thank you for taking the time to attend the recent Online Safety session lead by Rebecca Carey, Teaching and Learning Specialist - Assessment and ICT. It was really positive to see so many parents carers, governors and staff in attendance.  Whether you were able to attend or not we wanted to share the main points from the evening and links to some of resources that you will find useful when looking to discuss online safety with your children or reviewing the online environment that is being accessed at home.
Focus for the evening:
In real life you would protect your children…so why not protect them on the internet.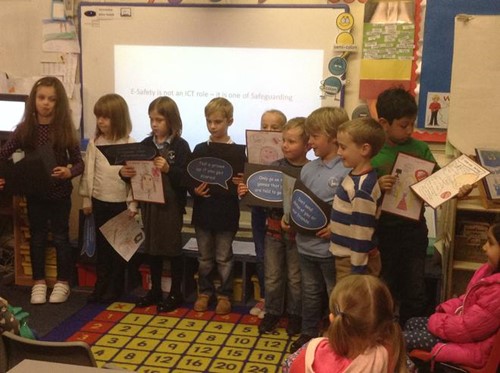 What do we ensure is developed in school?
(in line with the Ofsted safeguarding framework)

What is E-Safety or Online Safety?
Content
Being exposed to illegal, inappropriate or harmful Material
Contact
Being subjected to harmful online interaction with other users.
Conduct
Personal online behaviour that increases the likelihood of, or causes, harm
What do we (teachers, parents and carers) need to do?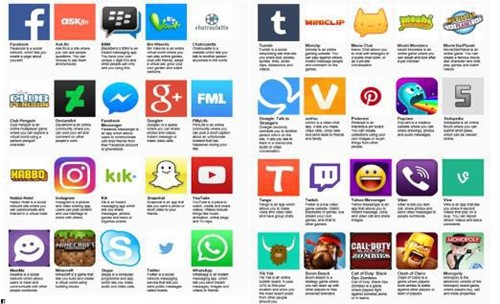 Building capacity for smart decision making…so children will make the right decisions when they are on their own, with their siblings and peers.
Creating a culture for sharing and discussing in a safe environment
Discuss what's new and On line behaviour.
Keeping up to date with ever changing technology (how many social networking sites have you heard of or do you use?  Do you know where there are child friendly alternatives)?
(Snapchat/Snapkidz)
Resources available to you online
NSPCC – online safety what parents need to know.  
NSPCC – Online Safety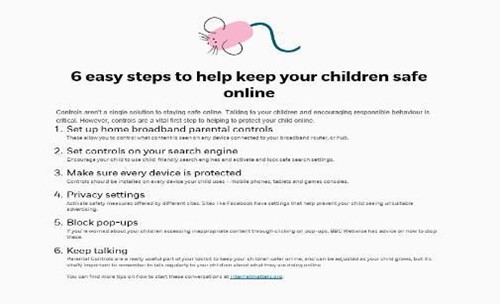 What children do online

The risks and dangers of children being online

Staying safe on mobiles and tablets
Ensuring that your home is set up for all online users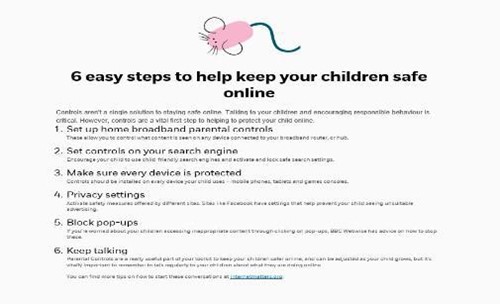 Have you set them?

Are all users equal in your house?
Click to visit Internet Matters Web Site for information on setting parental controls
Things to Consider - NSPCC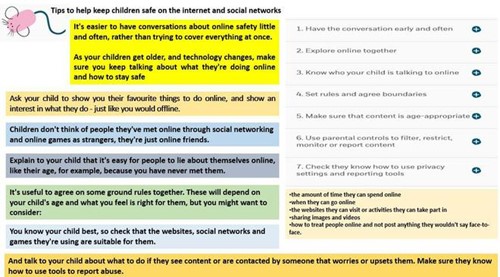 Educational resources suitable for KS1 and lower KS2 (yrs 1– 4)
Click the below relevant section to be redirected to external website.
ThinkUKnow – Hectors world (age 5-7)
ThinkUKnow – Parents and Carers
What is Cyber Bullying?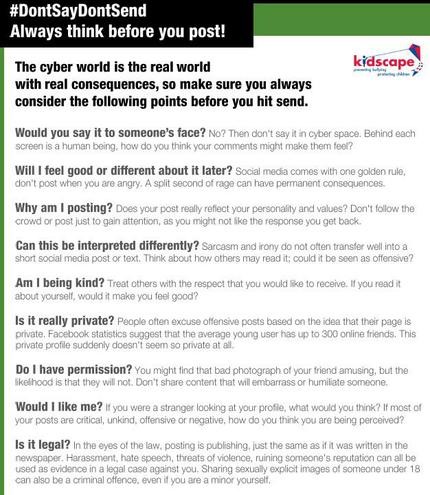 Teaching young people to be kind online and see the internet as an extension of real life.
Remember:
Teaching children to use the internet and other online environments (including games and apps) is like teaching road safety.  It's about
modelling safe behaviour

teaching the basics of road safety

Increasing independence a little at a time
Roads will always be dangerous (that does not change no matter how road safety conscious we are and accidents happen).  We as parents, carers and teachers are entrusted with ensuring that children have safe environments to operate in, are well educated about the risks of being online to themselves and others and that THEY ARE SMART
Parent Feedback from the Internet Safety Evening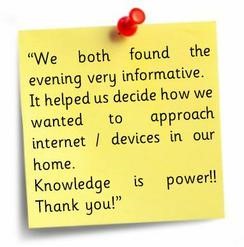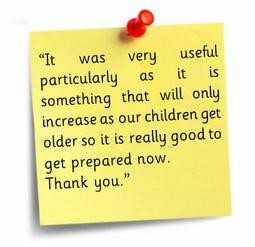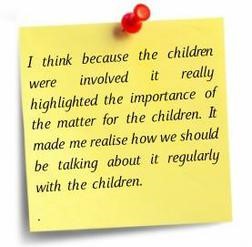 Children's Internet Safety Posters